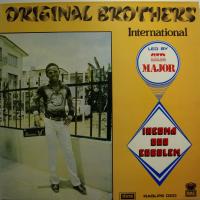 Original Brothers Intl
Iheoma Ogo Egbulem (LP)
Rogers All Stars 20
1981 France
Hypnotic highlife by Sir Mayor and the Original Brothers International out of Nigeria. The title track is amazing and builds for more than 17 minutes. If you like Ikenga Super Stars of Africa or Rocafill Jazz this album should sit well with you. Copy is fresh looking but with faint hairlines, playgrade more like EX and cover is fresh too.
EUR 50

VG+

VG+



Out of stock


Audio sample