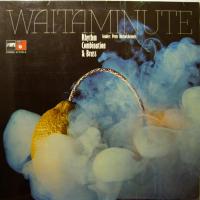 Rhythm Combination & Brass
Waitaminute (LP)
MPS Records 21 21751-5
1973 Germany
Definitely one of the best Herbolzheimer records and always in demand. Line up is exceptional with Geller, Mikkelborg, NHOP and Sabu Martinez to mention a few. All tracks are good here but their take on Weldon Irvine's Mr Clean is fantastic. Very very strong EX condition.
EUR 40

EX

EX



Out of stock


Audio sample