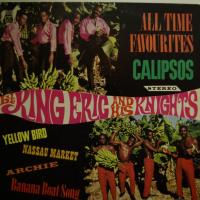 King Eric & His Knights
All Time Favourites (LP)
Elite OE-24
1966 Bahamas
Very much slept on Bahamas soul groover hidden as last track on this calypso recording. King Eric covering big hitters like Yelow Bird and Nassua Market but round things up with the brilliant Lonely For My Baby. Killer tune exclusive to this album.
EUR 20

VG+

VG+



Add to cart


Audio sample