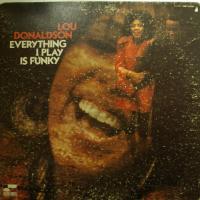 Lou Donaldson
Everything I Play Is Funky (LP)
Blue Note BST 84337 K
1970 Germany
Classic Blue Note recording with the always popular Allen Toussaint joint Everything I Do Gonna Be Funky (From Now On) but don't miss highlights like Donkey Walk and West Indian Daddy. Melvin Sparks, Idris Muhammed, Lonnie Smith and more get their groove on here. Blue Note blue / white label seventies press in US gatefold cover. Both have seen better days with lots of hairlines but top end pressing so playback is much better than it visual appearance.
EUR 20

VG-

VG-



Add to cart


Audio sample