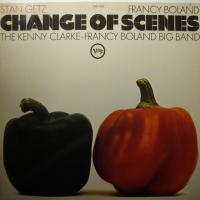 Clarke-Boland Big Band
Change Of Scenes (LP)
Verve 2304 034
1971 Germany
Brilliant collaboration with Stan Getz sounding really fresh under the guidance of the Kenny Clarke Francy Boland Big Band. Some top names on board here in Sahib Shihab, Herb Geller, Benny Bailey, Albert Mangelsdorrf and more. Solid listen from start to finish and a firm recommendation.
EUR 30

EX

EX



Add to cart


Audio sample