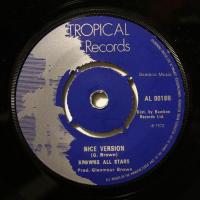 Tinga Stewart
A Brand New Me (7")
Tropical Music AL 0018A
1972 United Kingdom
Mega rare Tropical Music double sider with the Tinga Stewart track in high demand. Add to that another essential Glenmour Brown production in Browns All Stars Nice Version. EX condition with only superficial wear to vinyl. Rare!!
EUR 50

EX

NA



Add to cart


Audio sample
Please note: Item will be dispatched only on Saturday 25th April.